If you have questions, you can leave the application here.
We will contact you.
State Budgetary Healthcare Institution "Samara Regional Clinical Oncology Dispensary" (SBHI SRCOD) is the biggest oncology healthcare institution of Samara Region and Volga (Privolzhsky) Federal District. It has the certificate of conformity to ISO 9001:2015 and is the winner of the "Best oncological institution of the year" award within the framework of the "IN VITA VERITAS" contest.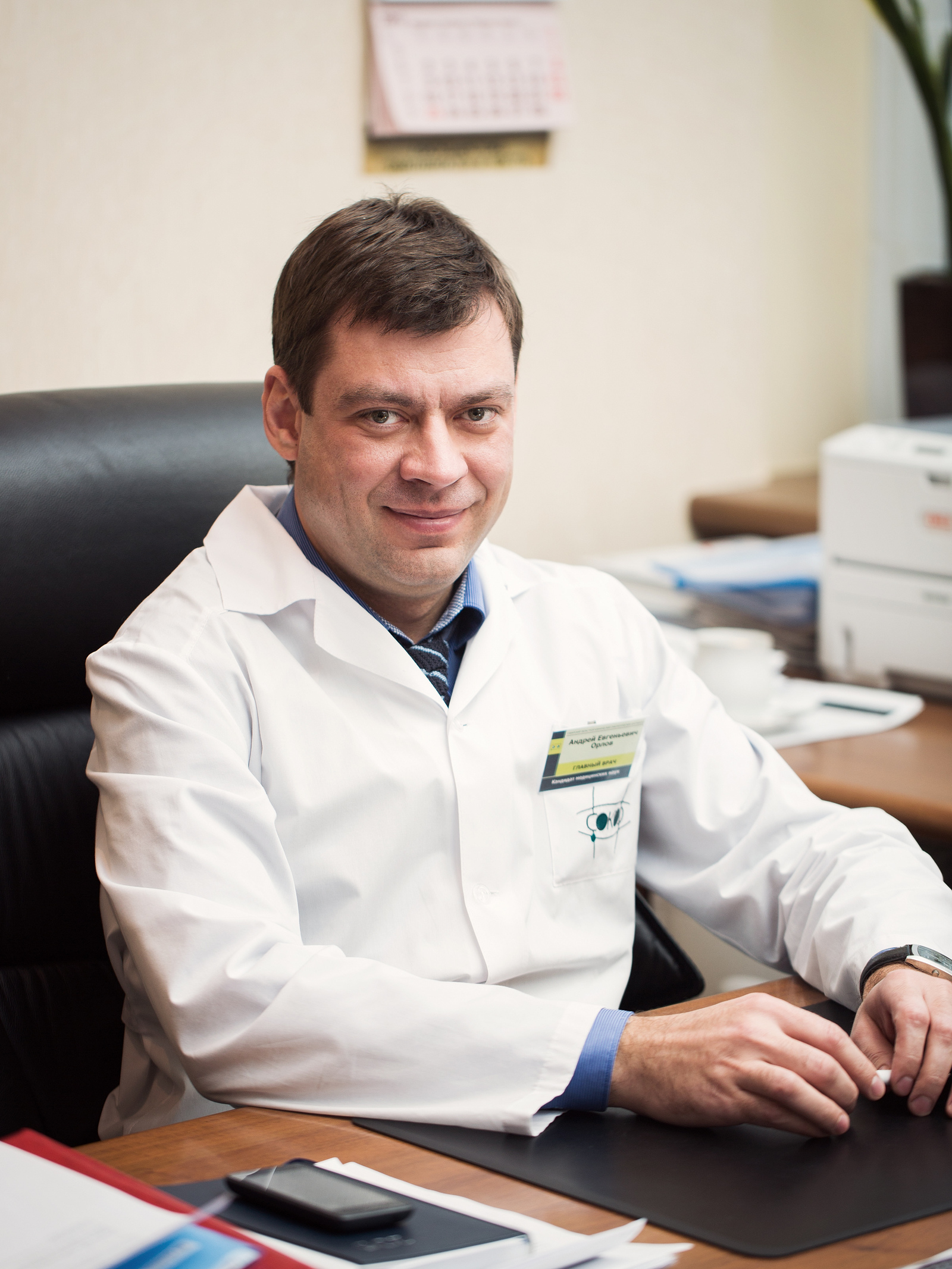 Chief physician: Andrey Orlov, PHD,
chief external expert for oncology
of the Samara State Ministry of Health
Scope of activity: delivery of specialized high-technology medical care to oncological patients
Activity categories:
Prevention activities and early detection of malignant neoplasms;
All types of diagnostic procedures;
Surgery for benign and malignant neoplasms, including reconstructive plastic surgery;
Modern radiotherapy techniques;
Pharmacotherapy of neoplasms;
Medical rehabilitation.
Samara Regional Clinical Oncology Dispensary is a specialized scientific and methodological center, the base for development of advanced research and technologies in oncology ontheterritory of the Volga Federal District.
Annually, more than 4 thousand people from other countries and regions of Russian Federation seek medical help at Samara Regional Clinical Oncology Dispensary; in 2018, medical care was provided to 3,525 of Samara`s region non-residents and 843 foreign patients.
People from all over the country arrive to Samara Regional Clinical Oncology Dispensary: ​​from the Volga region (Orenburg, Saratov, Ulyanovsk, Penza regions, the Republic of Tatarstan and the Republic of Bashkortostan), from Siberia and northern regions (Khanty-Mansiysk and the Yamalo-Nenets Autonomous district, Tyumen region, the Republic of Komi and the Republic of Sakha (Yakutia), Krasnoyarsk territory), from Moscow and the Moscow Region, from the Republic of Dagestan, from Krasnodar territory and from another 58 regions of Russia.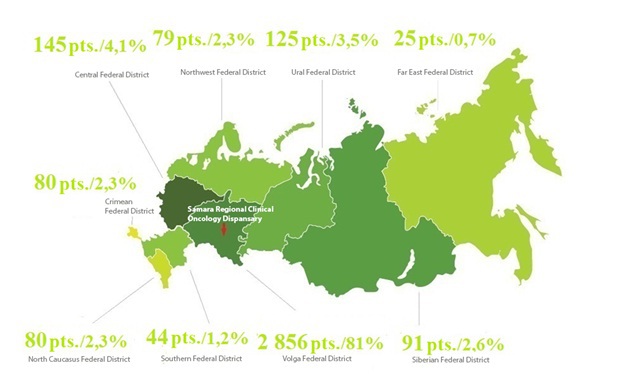 The majority of Samara Regional Clinical Oncology Dispensary non-resident patients (81%) are residents of neighboring regions.
In 2018, departments of Samara Regional Clinical Oncology Dispensary provided medical services to 2 856 patients from the Volga Federal District, including:
• Orenburg region - 2,015 people;
• Ulyanovsk region - 381 people;
• Saratov region - 152 people;
• The Republic of Tatarstan - 47 people;
• Penza region - 37 people;
• The Republic of Bashkortostan - 47 people;
• other regions of the Volga Federal District - 177 people.
Samara Regional Clinical Oncology Dispensary provides medical help to foreign citizens-patients from Kazakhstan, Armenia, Ukraine, Georgia, Azerbaijan, Uzbekistan, Kyrgyzstan, Tajikistan and other countries.
Since 2012 the number of foreign patients has increased 4 times; In 2018, specialists from Samara Regional Clinical Oncology Dispensary provided medical care to 843 foreign patients,628 patients (82.5%) were from Kazakhstan.
Equipment and staff
Expertise: qualification and scientific potential of the staff: 3 Honorary Doctorsof the RussianFederation, 7 Doctors of Medicine, 42 Candidates of Medicine (Cand. Med. Sci.), 82,66% of physicians are the physicians of the higher and the first qualification categories. Highlyqualified medical personnel have been trained and educated in the issues of malignant neoplasms treatment during traineeships at the hospitals of Europe, USA and Japan.
"Best of the best" equipment: expert class diagnostic equipment, including ultrasound scanners, endoscopes, CT and MRI scanners, laboratory equipment for the performance of molecular genetics testing, endovideosurgery units in operating rooms for the performance of laparoscopic, endovideosurgical and X-ray surgical interventions, resuscitation equipment and rehabilitation services.
Modern diagnostics
"Oncovigilance" – acomprehensive specialized examination for the assessment of health stateand early detection of precancerous conditions and early stages of malignant neoplasms.The examination includes the following diagnostic methods for men and women: cytological, immunological, ultrasound, X-ray, endosopic. The examination takes 3,5-4,5 hours and iscompleted within 1 day. The patient get sade tailed reporton the state of health and recommendation son further examinations and treatment.
Check Up–programs for diagnostic sofdifferent organs and organ systems diseases: "Female health", "Male health","Clear skin",neurological, otorhinolaryngological, gastroenterological, cardiovascular profiles.
Comprehensive genetic testingis conducted for the detection of pre-disposition to some type oncological diseases due to hereditary genetic mutations, including BRCA1/BRCA2, CHEK 2, as well as for the detection of high oncogenic risk Human Papilloma Virus (HPV) and subsequent consultation of the head of the laboratory.
Ultrasound examination us ingexpert class equipmentis one of the most common diagnostic methods, which allows both visualization of pathological process and sample collection (fine-needle aspiration biopsy, trepanobiopsy) for morphological examination.
Endoscopic examination is performed using modern equipment, including endosonography; vital staining of gastric mucosa, as well as mucous and submucous resection and resection of intestine benign neoplasms are available.
High—technologytreatment
Reconstructive plastic surgery and organ-sparing surgery are performed at surgical departments in case of locally advanced tumors of breast, head and neck. Endovideosurgical and laparoscopic methods are implemented and widely used, including endoprosthesic replacement (gastrointestinal, kidney tumors, oncogynaecology and all types of breast implant surgery. Voice implant surgery is used in the process of surgical treatment of larynx tumors, which allows maintaining high quality of life. Modern X-ray surgery techniques are implemented, that allow to perform minimally invasive surgical interventions: chemoembolization, radiofrequency thermoablation of benign and malignant liver, kidney and thyroid neoplasms, vertebroplasty.
The head of the surgical service is Michael Vozdvizhenskiy, deputy chief physician for medical care, PHD. The range of the surgeries performed at the abdominal oncology department is as follows (head of the department – Sergey Frolov):
In case of malignant neoplasms of the stomach, small intestine, bowel, liver and hepatobiliary and pancreaticoduodenal region
The follow inginterventions are performed: modified two stage liver resection (ALPPS) for primary primarily unresectable liver neoplasms, right and left hemihepatectome, "central" hepatic resection (only central (4,5 and 8) segments are resected), atypical hepatic resection, hepatic bisegmentectomy, radiofrequency and microwave ablation of liver neoplasms. Vascular (veins and arteries) resection and prosthesis are performed, if necessary.
The following surgeries are performed at the oncourological department (head of the department–Andrey Gorbachev, MD):
At the general oncology department (head of the department–Vladimir Savelyev, MD) surgical interventions are performed in case of:
laparoscopic and open surgery for the tumors of kidneys, adrenal glands, renal pelvis, ureter, urinary bladder, prostate,testicles, penis, retroperitoneal space.
malignant neoplasms of breast (including reconstructive plastic surgery), soft tissues, retroperitoneal space and melanoma.
The reduction of the operational injuryisan international trend nowadays, which can be accomplished by implementing minimally invasive techniques, that allow to perform surgical interventions in the out-patient settings. The number of minimally invasive surgeries performed at the SRCOD from 2015 to 2017 has increased from 8566 to 8910. Such interventions are associated with minimal number of complications and a faster patient recovery process, therefore allowing the patient to resume his everyday activities almost at once.
The following interventions are performed at the X-ray surgery, diagnostics and treatment department (head of the department–Alexander Skupchenko, MD):
Intravascular interventional procedures for hepatobiliary region tumors (chemoembolization), radiofrequency ablation of the tumors of liver, lungs, kidneys, bones, puncture drainage interventions for obstructive lesions of the bileducts.
Since 2007 HIFU-therapy is performed at the dispensary–the treatment with high intensity focused ultrasound. This minimally invasive and effective treatment method allows to treat early stages of prostate cancer with minimal number of complications and within 1 session. The intervention is performed at the department of interventional diagnostic and treatment methods, head of the department – Vyacheslav Solovov, PHD.
High-technology methods us ingcomputer systems to plan and control the treatment are available at the radiotherapy department, as well as brachytherapy, intraoperative radiation therapy, stereotactic radiation therapy.
Head of the department–Julia Yannaeva.The range of the methods performed at the department:
3D - conformal radiation therapy of malignant tumors of different sites, intensity-modulated radiation therapy (IMRT), image-guided radiation therapy (IGRT), intraluminal radiation therapy of oesophageal cancer, short-distance radiation therapy, radiation therapy with breathing control, accelerated partial radiation therapy of the breast as part of the comprehensive organ-sparing treatment of patients with breast cancer, brachytherapy.
Rehabilitation programs
The treatment success of oncological patients may also be assessed by the number of patients, who once again became full-fledged members of society after radical treatment and rehabilitation. One of the main aim sof the SRCOD rehabilitation departmentis to increase patients' quality of life. 7293 patients under went comprehensive programsin 2017 (6530 in 2016, 6499 in 2015).
A wide range of physiotherapy methods, remedial gymnastics, hyperbaric oxygenation and ozone therapy, are implemented at the rehabilitation department (head of the department – Tatyana Sivokhina, PHD); psychological rehabilitation for patients and their relatives is also performed. Different programs for patients with tumors of breast, head and neck, as well as with oncogynaecological and oncourological diseases have been developed. Individual plans are developed taking into account the features of the disease, treatment stage, safety of the methods being used; they are implemented by high-skilled experts.
2 options of 10 days comprehensive rehabilitation programs are available: rehabilitation of oncological patients and rehabilitation of patients with various chronic diseases.
Palliative care
The main aim of the palliative care department is to improve the quality of life of patients with advanced stages of cancer. The SRCOD palliative care department is an outreach medical service. The physician sof the department perform detoxification therapy, painsyndrome therapy, minor surgical interventions (laparocentesis, thoracocentesis, urinary bladder catheterization etc.) and deliver psychological care to patients and their relatives. 813 patients received medical care at the department in 2017.
Service and individual assistance
During diagnostic and rehabilitation procedures the patients are provided with comfortable environment; they also have an opportunity to accommodate in the nearby hotels. In-patients are ad mitted to single- and two-bedrooms with all modernconveniences and receive individual assistance.
Показатель
Indicator

2016

2017

2018

Пролечено пациентов (в стационаре)
Number of patients treated at the in-patient department

30968

32922

35005

Высокотехнологичная медицинская помощь, пролечено человек
Number of patients who received high technology medical care

1021

1222

1260

Доля высокотехнологичной медицинской помощи
Share of hightechnology medical care

8,0%

9,1%

9,6%

Малоинвазивные технологии, количество услуг
Minimally invasive technologies, number of services

1572

1693

1875

Доля малоинвазивных вмешательств
Share of minimally invasive interventions

12,3%

12,6%

14,2%

Летальность общая
Overall lethality

0,24%

0,3%

0,3%

Послеоперационная летальность
Postoperative lethality

0,5%

0,5%

0,48%

Получили лечение в отделении реабилитации, человек
Number of patients who received treatment at the rehabilitation department

6530

7293

8905

Охват реабилитационной помощью
Rehabilitation care coverage

43,0%

48,9%

49,5%

Получили лечение в отделении паллиативной помощи, человек
Number of patients who received treatment at the palliative care department

830

813

1049

Охват паллиативной помощью
Palliative care coverage

70,6%

72,1%

73,5
Comprehensive programs of rehabilitation
Contact us
50, Solnechnaya street
Ask a question
If you have questions, you can leave the application here We will contact you
Ошибка
Application/request for medical assistance
Ошибка